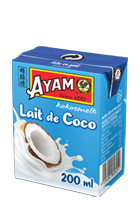 INGREDIENTS
100g rice, washed and drained
1000ml water
100ml AYAM Coconut Milk
75g beef, minced
75g chicken, minced
75g shrimp, peeled and cubed
1 inch cinnamon
1 no. star anise
2 cloves garlic
½ inch ginger, julienne
Salt to taste
1 tbsp crisp fried shallots
2 stalks spring onions, chopped moderately
Preparation
Combine the rice, water, beef, cinnamon, star anise, ginger and garlic. Bring to boil. Lower flames to a simmer and stir once in a while. Let it simmer until the rice is very soft and creamy.
Add coconut milk, chicken and shrimp. Simmer another 10-15 minutes. Season to taste. Remove from heat.
Scoop in a serving bowl and garnish with shallots and spring onions. Serve hot.